From the moment you step out of your car and take a deep breath, JFK can feel like the most uncomfortable airport in America. The crowds are large and unruly, it's hot as all get-out, and there's nothing to do but stand in line for hours on end. So thankfully, JFK has finally come up with a solution: sleep pods!
These comfortable little cubbies have been popping up at different terminals around the airport over the past few months. They're designed to offer weary travelers an opportunity to escape from their stressors while they wait for their flights. And best of all – they're free! Just head over to any terminal that has them (they're scattered throughout) and find yourself a cozy place to snooze.
Jetblue Sleep Pods at JFK
Back in 2016, JetBlue unveiled four state-of-the-art sleeping pods at John F. Kennedy International Airport, each with a mix of lights, music, and vibrations to gently rouse passengers 20 minutes later. The aim is to put tired travelers to sleep and wake them gently about 20 minutes later. When it launched it was featured in NY Post here.
The Jetblue sleep pods were installed by GoSleep a company that specializes in rest equipment.
Each pod includes a long leather mattress with a breathable lockable screen on top. Typically, each pod can be rented by the hour or overnight but it appears that Jetblue decided not to monetize these pods. They are still free despite earlier reports that Jetblue was going to increase the number of pods and start charging a fee.
They are still free on a first-come, first-use basis. Those who use the pod can keep their belongings under the mattress, which is a big concern as many fliers have reported getting worried their stuff is going to get taken away. Munich Airport's Napcaps and Atlanta Airports' Minute Suites have figured out the solution to this with a lockable mini cubicle.
Each pod includes a quick-charger for electronic devices and users are responsible for cleaning their own pod with the cleaning products provided.
JFK Terminal 4 Sleep Pods:
At Terminal 4 of JFK, you can book Escape Pods which are slightly designed differently from the GoSleep or RestWork models.
As you can see from the images below, they look more like small office cubicles and that's correct. It's because they are just that – mini-offices at the airport but if you're super tired and want a quiet space to rest your head on top of a table without a bed, this is an option for you.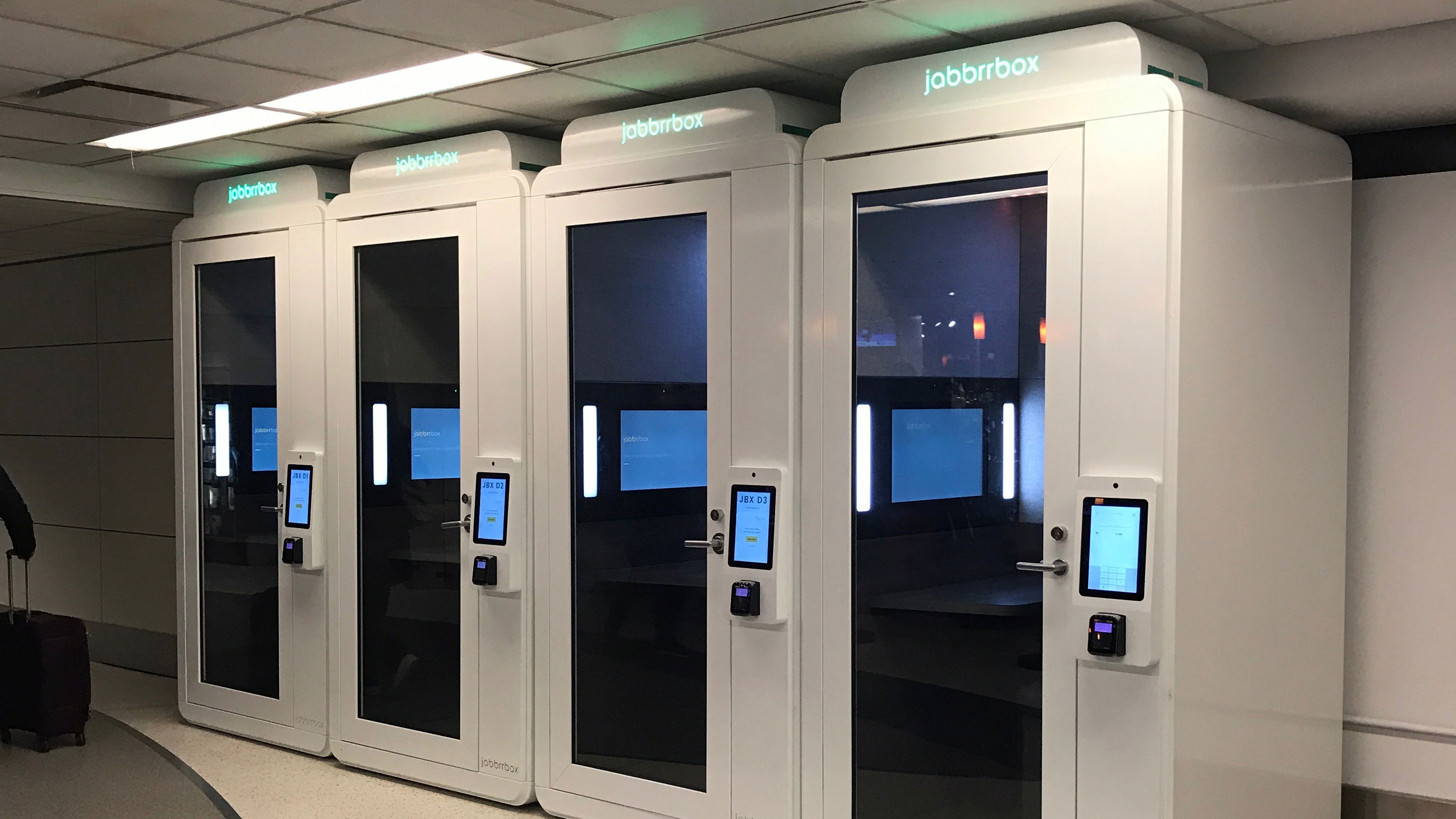 Escape Pods are more like workstations than sleep or napping spots and they describe it well on their website that their pods are a "technology-equipped workspace that is plush and quiet, with thoughtfully-designed touches for those who need an escape from the hustle and bustle of the busy airport terminal."
While you can go and nap there for some time, Escape Pods are mostly meant for business travelers who may have some work to do in between their flights. If you book an escape pod, you will have access to these amenities.
24-inch screen with photobooth capabilities,
Access to a terminal map and your flight information.
Large table to work at,
USB charging ports, and
Encrypted Wi-Fi.
When you book a space, you'll receive the lock PIN on your email that you'll use to unlock the pod.
The max amount of time you get is 2 hours and it appears that their pricing is similar during the day and at night. Below are their fees;
15 mins – $10
30 mins – $15
45 mins – $25
60 mins – $30
90 mins – $45
120 mins – $60.
Below is a snapshot of a sample booking I made from their website's booking page
Escape Pods is part of the Jabbrrbox network which is an app-based tech company offering these mini-office solutions in different airports. Jabbrrbox is pioneering a new concept and looks like they've already onboarded 11 airports – including JFK. They are also in Tacoma, Seattle, and Portland International Airport. Read more about them on their website here.
They have been featured on CNN and on Techweek
If you'd like, you can also check out their iOS app or Android app.
Terminal 5 Sleep Pods
At terminal 5, you can sleep in sleep pods (Airside) for up to 20 minutes free of charge. JetBlue has JetNap Energypods that are located next to Gate 16 and between gates 27 & 28 There are a total of 10 pods, which are available on a first-come, first-served basis. Read more on JetBlue's website here. On the landside, you can use TWA sleep pods as well.
@JetBlue has the answer to napping at #airports w/ #JetNap. #tech #traveltech https://t.co/XyclkpxXcJ pic.twitter.com/SH9TDIyrvW

— TravelPulse (@TravelPulse) April 21, 2016
Terminal 7 Sleep Pods by British Airways
In 2021, British Airways also installed Sleep pods at Terminal 7 of JFK airport. B. Airways pioneered EnergyPod, a technology developed by Rest Works. British Airways is offering the 7 pods at the BA terminal as complimentary and you do not need to book ahead of time. When you get to the Terminal, you need to use their British Airways 'Your Menu' lounge app to check availability in real-time.
Restworks is a company specialized in providing workplace sleep technology and rest facilities such as massage chairs and nap pods and has installed it at Heathrow and JFK. Check out sleep pods at Heathrow Airport here.
Other than JFK, the following sleep pods in the US also have sleep pods;
Sleep Pods alternatives at JFK:
TWA Hotel
If you're not a fan of the idea of taking a nap in an airport, don't worry – JFK has plenty of other options for weary travelers. One such option is TWA Hotel which is located inside the hotel. TWA Hotel has a package for those looking to sleep during the day and regular night-time packages.
The day packages, called are available daily from 6 AM to 8 PM ET for a minimum of four hours and a maximum of 12 hours. Their cheapest rate is $149 for a max of 4 hours. You can check to price for all options here. When you add the tax, it cost almost $200 as shown in the snapshot I took below;
Other great options to sleep if you don't want to go with sleep pods:
How Sleep Pods work
Sleep pods are rest equipment that reclines and has a noise-masking system. They come with an amenity kit that has earplugs and an eye mask, as well as a heated blanket if it gets cold. You can control the pod's light and sound to get ready for a good night's sleep. When you're done sleeping, the pod will play a light jazz melody to gently wake you up.
FAQs
Q: Can you sleep at JFK during layovers?
A: Yes, you can sleep at JFK during layovers. In fact, JFK and a number of airports offer sleep pods for travelers but also have nearby hotels.
Q: How much do the sleep pods cost?
A: The JFK sleep pods are free to use.
Q: How long can I use the sleep pod for?
A: You can use the sleep pod for up to two hours.
Q: How do I book a sleep pod at JFK?
A: The sleep pods are available on a first-come, first-served basis so there is no need to book in advance. Just head over to the airport and look for the nearest sleep pod.
Q: Does JetBlue have a lounge at JFK?
A: Yes, JetBlue has a lounge at JFK. The lounge is located in Terminal 5 and offers a variety of amenities such as Wi-Fi, charging stations, food and drinks, and more.
Q: What are the hours of the JetBlue lounge?
A: The hours of the JetBlue Lounge vary depending on the day. However, the lounge is typically open from early morning to late evening.
Q: What is the cost of the JetBlue lounge?
A: The cost of the JetBlue Lounge varies depending on the day. However, it typically costs between $35 and $50 to enter or can book one of the hotels close to JFK
Q: Can I leave JFK Airport during a layover?
A: Yes, you can leave JFK Airport during a layover. In fact, there are a number of things to do in the city of New York and the surrounding areas.
Q: What is the best way to get from JFK Airport to Manhattan?
A: The best way to get from JFK Airport to Manhattan is by metro train, taxi or Uber.
Q: What is the cost of a taxi from JFK Airport to Manhattan?
A: The cost of a taxi from JFK Airport to Manhattan typically costs between $55 and $75 depending on the time of day. There are also other places or things to do around JFK.
Q: Are there sleep pods at JFK terminal 4
A: In early 2022, we just checked and it is still under planning to be launched in the future.
Related:
Hi there! My name is Fred and I have a weird obsession with airport lounges. I recently joined Alex here at Airport LLC and will be writing about airport lounges in the US and in a few countries in Europe including the UK, Germany, and France. If you have any question(s) about any airport lounge, you can reach me on fred@airportllc.com.